WITH THREE SIGNED ALECHINSKY ETCHINGS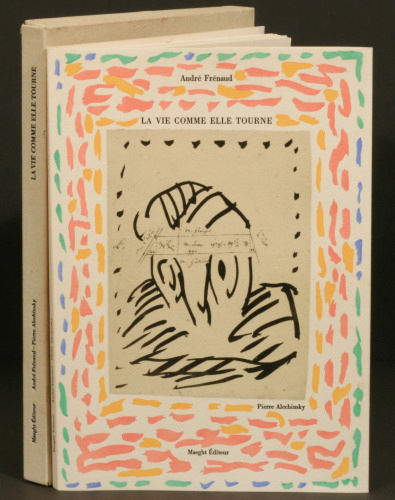 (ALECHINSKY, PIERRE). Frenaud, Andre.
La Vie Comme Elle Tourne et par Example
Alechinsky is "a man of strange blameless passions. Decorated invoices, worthless stock certificates, obsolete air-force navigational charts and ancient hand-written archival materials spark his imagination. . . . He has a taste for nature's upheavals." -John Russell
First edition, one of only 90 copies signed by Alechinsky and Frenaud. With three original etchings signed and numbered by Alechinsky printed on old French notary acts, one each in red, blue, and green. An exceptionally beautiful work with the etchings printed at Mme Veuve Moret, Maeght for the illustrations, and l'Impremerie Union for the text on Bodoni paper.
Paris: Maeght, 1979. Small folio, contents loose as issued in original pictorial wrappers highlighted in pochoir; etchings laid into separate folder; publisher's cloth folding box. A fine copy. Scarce. $3400.
additional images: