ONE OF THE MOST INFLUENTIAL BOOKS OF AMERICAN PHOTOGRAPHY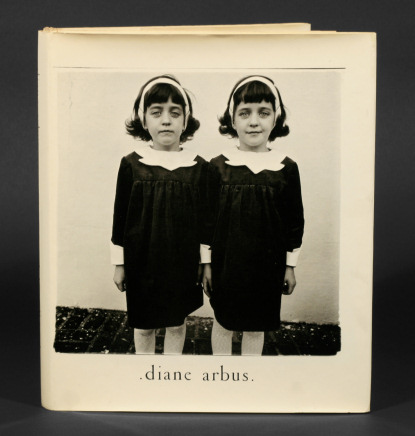 ARBUS, DIANE.
Diane Arbus: An Aperture Monograph
ďNothing is ever the same as they said it was. Itís what Iíve never seen before that I recognize..."
ďI do feel I have some slight corner on something about the quality of things. I mean itís very subtle and a little embarrassing to me, but I really believe there are things which nobody would see unless I photographed them."
FIRST EDITION, FIRST ISSUE (with "Two girls in identical raincoats" image) of this classic collection of the photographs of Diane Arbus.
Following Arbus's suicide in 1971, the curator of MOMA, John Szarkowski, began work on staging a major retrospective of Arbus's work. At first there was little interest in the project and the proposal for the accompanying catalog was rejected by every major publishing house before Aperture magazine's Michael E. Hoffman agreed to print the book. The resulting MOMA retrospective was a huge success, traveling throughout North America and attended by over seven million people; the corresponding book, Diane Arbus: An Aperture Monograph, has since become one of the most influential photography books ever produced, cementing Arbus's reputation as one of the most original and expressive photographers of her time.
Millerton, New York: Aperture, (1972). Quarto, original boards with photograph on front panel, original dust jacket. Book very good with slight split to top of text block of title page (entirely intact and holding); dust jacket in fine condition. $2300.