SIGNED BY LEONARD BASKIN AND WITH SIXTEEN WOODCUTS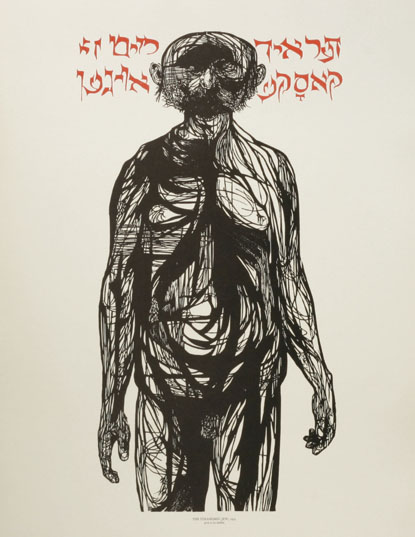 BASKIN, LEONARD.
Fifteen Woodcuts

"People like me, who care about printing, constitute the tiniest lunatic fringe in the nation." -Leonard Baskin
LIMITED EDITION, one of only 100 copies (out of a total edition of 600 copies) with an extra woodcut printed from the block at the Gehenna Press, for a total of sixteen large folio woodcuts plates by Baskin. The Gehenna Press, founded by Baskin in 1942, was one of the premier 20th-century fine presses in America. Includes his most famous images from the 1950's: Man of Peace, The Strabismic Jew, Mantegna at Erimitani, Hydrogen Man, Everyman, Terrified & Frightened Man, The Poet Laureate, Leonard Baskin (self-portrait 1952), Mourning Woman, Angel of Death, Death of the Poet Laureate, Torment, Tormented Man, Hanged Man and Haman. Note: The colophon indicates that the 100 copies with the extra plate should be numbered in Roman numerals, but this one is numbered "46" in Arabic numerals.

Boston: The Friends of Art, Boston University, 1962. Large folio (22x16 inches), loose sheets as issued in original cloth chemise with paper cover label. Generally very clean with a slight bit of foxing and offsetting. $1600.