RARE SIGNED FIRST EDITION OF BILL BURKE'S BEST BOOK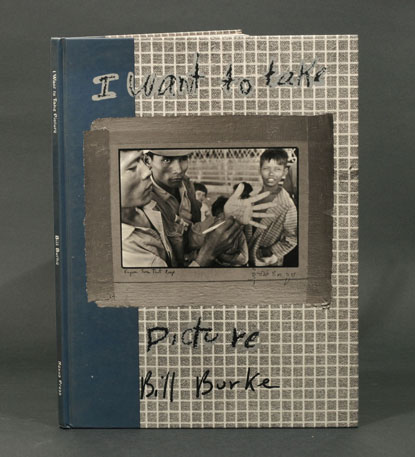 BURKE, BILL.
I Want to Take Picture
"The triumph of this book is that it does manage to reflect the mad experience of traveling in Southeast Asia, while still reflecting on what it all means" (Roth 101).
FIRST EDITION of one of the seminal photobooks of the 1980's. SIGNED BY BURKE INSIDE ORIGINAL DRAWING OF HIS HAND. One of only 1000 copies printed of the first edition.
"Bill Burke has become known for his large-format portraits shot on Polaroid Land film, which have the formality and feel of nineteenth-century photographs whilst remaining acutely modern in their sensibilities. In his best book, I Want to Take Picture, this technique is entirely appropriate, since it records his personal pilgrimage to southeast Asia, duplicating the enterprise of the old colonialist photographers but adding a contemporary twist...
"Although the pictures have a nineteenth-century feel, the book is also a diary that records a twentieth-century experience. Burke not only uses his photographs, but also employs documents- reproductions of ephemera like money and bus tickets- and collages them with handwritten captions. The result is a kaleidoscopic impression of his journeys, taking the book out of the documentary realm and into that of the personal road trip. However, this particular sojourn does not merely connate the search for self that occupies so much of late twentieth-century American photography. It also represents a moving attempt to come to terms with some of the events that haunted his generation" (Parr/Badger, The Photobook). Roth 101.
Atlanta: Nexus Press, 1987. Folio, photo-pictorial boards. A fine copy. Rare signed. $1900.