ONE OF THE MOST INFLUENTIAL PHOTOGRAPHY BOOKS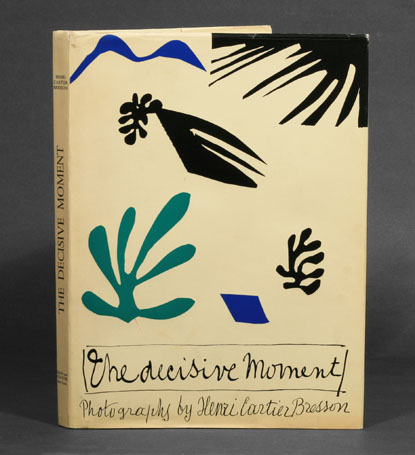 CARTIER-BRESSON, HENRI. The Decisive Moment
"To me, photography is the simultaneous recognition, in a fraction of a second, of the significance of an event as well as of a precise organization of forms which give that event its proper expression."
FIRST AMERICAN EDITION of Cartier-Bresson's most famous and important book. Illustrated with 126 full or double-page heliogravures of Cartier-Bresson's photographs. With dust jacket and boards specially designed by Henri Matisse for this work.
The Decisive Moment "contains what is probably Cartier-Bresson's most comprehensive and important statement on the meaning, technique, and utility of photography. The title refers to a central idea in his work—the decisive moment—the elusive instant when, with brilliant clarity, the appearance of the subject reveals in its essence the significance of the event of which it is a part, the most telling organization of forms" (Britannica).
New York: Simon & Schuster, 1952. Folio (14.25 x 10.5 inches), original boards, original dust jacket. With original booklet of captions (often missing) laid-in. Book fine, dust jacket price-clipped, with very light edgewear (including a few tiny repaired closed tears at spine ends). An outstanding copy of a book that is difficult to find in collectible condition. $5000.