SIGNED AND INSCRIBED BY MARC CHAGALL
chagall, marc.
The Lithographs of Chagall. Volumes I-VI (complete)
"As with all the greatest of his contemporaries, Chagall's genius is multiform. He is first of all a painter, but like Matisse, Derain, Braque and Picasso, he has sought other means of expression besides painting. They have all found these means in sculpture, ceramics, stained glass, engraving and lithography….The most brilliant effects, however, have probably been produced in the field of engraving and lithography." - Julien Cain, introductory essay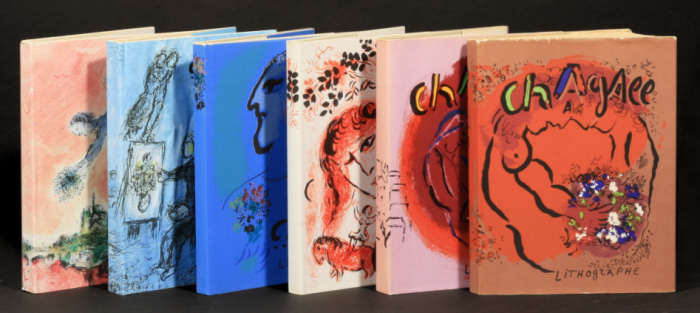 First editionS of all six volumes (English-language issues) of Chagall's catalogue raisonče, Signed and inscribed by chagall in volume I. Complete with 28 original lithographs, including original lithograph dust jackets for volumes I-IV.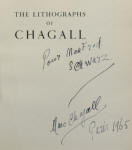 An interesting association copy: inscribed by Chagall, "Pour Manfred Schwarz / Marc Chagall / Paris 1965". Manfred Schwartz (Schwarz) (1909-1970) was a highly accomplished Polish-American artist. Schwartz often lived in Paris and was an influential member of the Parisian art scene, belonging to an impressive inner circle of some of the greatest masters of the century including Braque, Rouault, Picasso, Matisse, and Duchamp.
Notes and catalogue by Fernand Mourlot. Monte Carlo & New York or Boston: Andre Sauret & George Braziller, 1960-63-69-74-84-86. Quarto, original cloth volumes, original dust jackets, original slipcases to volumes III and V. All volumes in fine condition. Inscribed copies of Chagall's Lithographs are extremely rare. A superb set. $14,500.