SIGNED BY SALVADOR DALI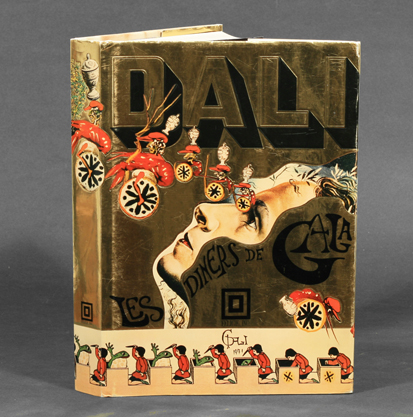 DALI, SALVADOR.
Les Diners de Gala [The Dali Cookbook]
"Do not forget that, a woodcock 'flambée' in strong alcohol, served in its own excrements, as is the custom in the best of Parisian restaurants, will always remain for me in that serious art that is gastronomy, the most delicate symbol of true civilization."
"I attribute capital esthetic and moral values to food in general, and to spinach in particular..."
FIRST EDITION IN ENGLISH, SIGNED BY DALI on front free endpaper.
"Les Diners de Gala, the opulent cookbook that [Dali] conceived and illustrated, sets out a surrealist gastro-aesthetics that is at once visceral and ascetic, Dionysian and Catholic... [It] showcases Dali's ornamentation of menus from such legendary restaurants as Maxim's and La Tour d'Argent and features the recipes of their chefs. Dali stages himself within the sumptuous culinary mise-en-scene... Les Diners de Dali moves between 'sado-masochistic pleasure', 'acute sybaritism', Rabelaisian scatology, religious ecstasy, and anaesthetic asceticism." (Richard Gough, On Cooking). With 136 recipes in 12 categories: exotic dishes; eggs & sea food; first course; meats; snails & frogs; fish & shell fish; game & poultry; pork; vegetables; aphrodisiacs; desserts; hors-d' oeuvre.
Translated by Captain J. Peter Moore. New York: Felicie, 1973. Quarto, original cloth, original illustrated foil dust jacket. Embossed stamp from Lenox Library on title page. Book near-fine with a little wear at corners, dust jacket near-fine with a slight bit of general wear. A beautiful and most interesting book, rare signed. $4400.