ONE OF THE MOST CELEBRATED ART BOOKS OF THE CENTURY:
SIGNED BY JASPER JOHNS AND SAMUEL BECKETT
(JOHNS, JASPER). BECKETT, SAMUEL. Foirades / Fizzles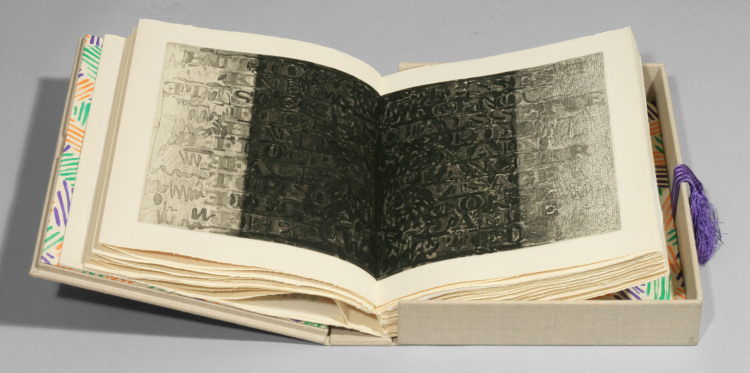 SIGNED LIMITED FIRST EDITION, ONE OF ONLY 250 COPIES SIGNED BY JASPER JOHNS AND SAMUEL BECKETT (from a total edition of 300).

Magnificently illustrated with original prints by Johns including: 26 lift ground aquatints and 5 etchings with mixed media, 1 soft-ground etching, and one aquatint; plus 2 color lithographs as endpapers. Printed on handmade wove Auvergne Richard de Bas paper watermarked with Beckett's initials and Johns's signature. Text in both French and English by Beckett.

"Two of the most enigmatic artists of our time, Samuel Beckett and Jasper Johns, collaborated on this complex yet elegant artist's book. Originally written in French..., the brooding essays were rewritten in English by Beckett for this project. Nevertheless, Johns decided to include both texts that expanded his own involvement to thirty-three etchings and aquatints plus color lithograph endpapers. Johns's imagery is based on a major four-panel painting, Untitled (1972), along with his classic imagery related to numbers and body parts. This cerebral volume that provokes more questions than it answers is considered one of the greatest artists' books of the second half of the twentieth century." – Johnson and Stein, Artists' Books in the Modern Era 1870-2000. Included in the landmark 1995 Museum of Modern Art exhibit: A Century of Artists' Books.

London, Paris, and New York: Éditions de Minuit & Petersburg Press, 1976. Oblong folio (13 x 9 3/4 in.; 330 x 247 mm), publisher's ivory wove paper binding with aquatint endpapers, bound in accordion fold around support leaves; publisher's beige linen solander box with purple tassel lined with colored lithograph. Printed at Atelier Crommelynck. FINE CONDITION. $30,000.