SIGNED BY ANDRE KERTESZ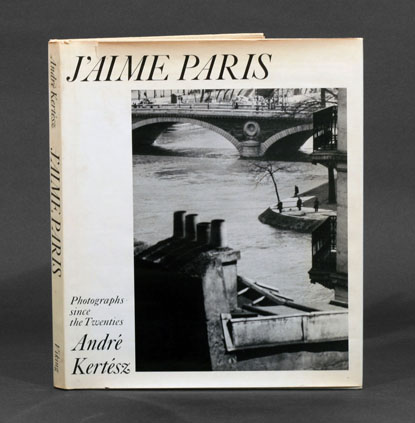 KERTESZ, ANDRE.
J'Aime Paris. Photographs since the Twenties.
"I write with light and the light of Paris helped me express what I felt and what I feel: J'aime Paris." -Kertesz
FIRST EDITION, SIGNED BY KERTESZ. One of Kertesz's major monographs, a retrospective collection illustrated with over 200 gravure plates from his years in Paris.
"Kertész moved to Paris in 1925 to work as a freelance photographer. There he became friendly with many influential artists, including Fernand Léger, Marc Chagall, Piet Mondrian, and Tristan Tzara. Kertész's access to these individuals allowed him to create a definitive portrait of the Parisian cultural milieu of the period. In 1927 he had a well-received one-man show in Paris, and his photographs were shown the following year at the influential First Independent Salon of Photography. In 1928 he bought a Leica, a small handheld camera that gave him the freedom to move about the streets of Paris and capture spontaneous moments of urban life, a subject that would fascinate him throughout his career" (Britannica).
Edited by Nicolas Ducrot. New York: Grossman, 1974. Quarto, original black cloth, original photo-pictorial dust jacket. Book fine, dust jacket with light toning at extremities and two small closed tears at edges. $1300.