TRANSFORMATIVE PHOTO-DOCUMENTARY OF AMERICAN POVERTY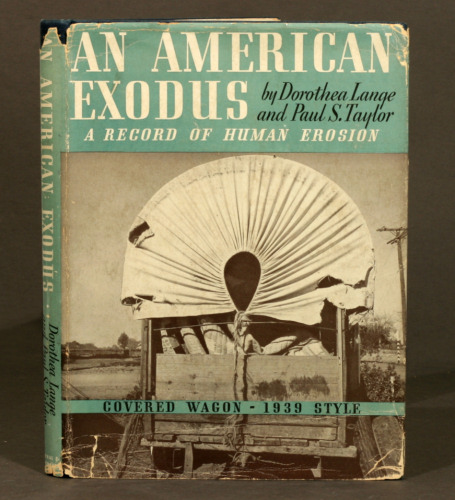 LANGE, DOROTHEA.
An American Exodus: A Record of Human Erosion
"The story of the 'Grapes of Wrath'--the story of that tragic dislocation which is driving hundreds of thousands of impoverished Americans off the land, onto the highways, into the already flooded market of migrant laborers is also the subject of 'An American Exodus.'"—Paul Strand
Lange's photographs" acknowledge the complexity of the subject, avoid the sentimental, and are informed by the cultural conditions of the time and place in which they were made. She developed the documentary form of photography into a medium of vital visual information and great aesthetic significance." –American National Biography
First edition. "Of all the documentary photobooks stemming from the New Deal, and the FSA in particular, An American Exodus by Dorothea Lange and her sociologist husband Paul Schuster Taylor is the most considered… Her pictures are as direct as those of Walker Evans, though without his studied disinterest. Lange was much more of a 'people person' than Evans ever was, and this marks her work" (The Photobook: A History).
New York: Reynal & Hitchcock, 1939. Text by Paul Schuster Taylor. Quarto, original blue cloth, original dust jacket. Book very good with slight bump to upper corner of front board, bookplate to blank free endpaper; dust jacket with small chips to spine extremities, some creasing to lower portion of front wrapper and two small closed tears. A very good copy of a difficult book to find in collectible condition. $1600.