One of 100 copies signed by Lichtenstein,
with 24 offset lithographs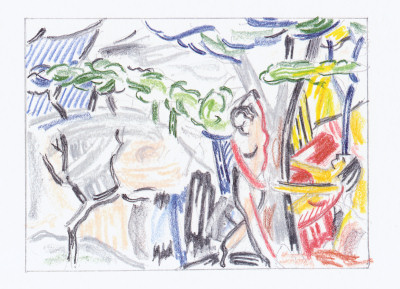 LICHTENSTEIN, ROY.
Landscape Sketches: 1984—1985
"Here Roy Lichtenstein admits us to his private world…"
FIRST EDITION, ONE OF ONLY 100 COPIES SIGNED BY LICHTENSTEIN, complete with 24 offset lithographs printed in color on Coronado Opaque SST Cover paper.
Although known primarily for large, bold works, Roy Lichtenstein "always worked from meticulous, finished sketches. During a distinguished career of almost three decades, he has seldom deviated from the practice of using these sketches to generate paintings, prints, and sculpture in ongoing, and discrete, series…
"The twenty-four drawings in this sketchbook are 'all landscapes, figures, and houses, but they are essentially landscapes.' They do, in part, recall certain of his landscape images of the mid-sixties. However, now devoid of the familiar Lichtenstein dots, each is composed exclusively of brushstrokes—a combination of free, seemingly spontaneous marks evoking Abstract Expressionism played against what the artist refers to as 'cartoon' brushstrokes that continue to represent his concern for artifice…
"[The] drawings in Landscape Sketches 1984—1985, inspired by a semiabstract landscape that appeared as an element in his recent Paintings series, constitute his first attempt at creating 'plain landscapes out of all brushstrokes'—the frankly 'fake' or cartoon marks providing the link that allows us to associate these new works with those we recognize as archetypal." (Constance W. Glenn, Introduction).
---
New York: Harry N. Abrams, 1986. Quarto (8.25 x 11 in), loose as issued in cloth box with introductory booklet laid-in. Number 27/100 signed and dated on inside of portfolio. A FINE copy in original shipping box. $4200.
additional images, please click to enlarge: