SIGNED BY MIR", WITH 21 ORIGINAL LITHOGRAPHS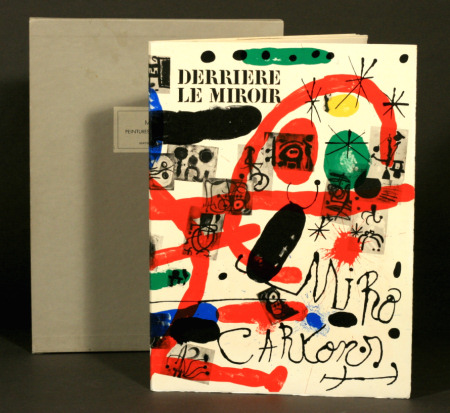 Mirů, Joan.
Derriere Le Miroir. Joan Mirů. Peintures sur Cartons. Special Number 151-152.
"I try to apply colors like words that shape poems, like notes that shape music..."-Joan Mirů
SIGNED limited FIRST edition, NUMBER 127 of 150 copies SIGNED BY MIR".
The complete suite, comprising 22 lithographs printed in colors on Rives paper, signed in pencil on the colophon; includes four double-page lithographs. NOTE: The limited edition is of vastly superior quality than the corresponding trade issue of Derriere Le Miroir. Paris: Maeght, 1965. Folio, lithographed wrappers; original board chemise and slipcase. A superb production in fine condition. $6500.
additional images: