With 11 lithographs by Chagall, Picasso, Miro, Calder, and others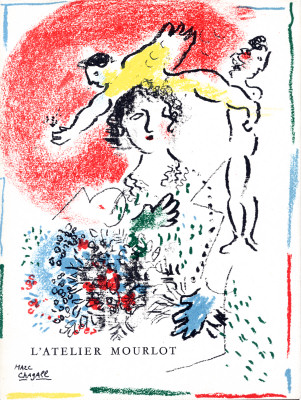 CHAGALL; PICASSO; MIRO; CALDER; MATISSE; et al.
Lithographies de l'Atelier Mourlot
"Fernand Mourlot, one of the most renowned printers of lithographs today, presents for us here an exhibition of works from his great press—original lithographs, and posters by young painters of the School of Paris, works by Frenchman, English and Americans." –Jean Adhemar
FIRST EDITION, one of only 1000 copies printed (out of a total edition of 1150), with 11 lithographs (8 in color) by Chagall (cover), Picasso (2 lithos), Miro, Giacometti, Minaux, Jenkins, Matisse, Masson, Calder and Buffet. Printed to accompany the show "L'Atelier Mourlot" at La Galerie Redfern, London, from December 1965- January 1966. With text (in English translation) by Jean Adhemar. Paris: The Redfern Gallery, 1965. Small quarto, original stiff brown paper boards, original lithographed wrappers by Chagall. A beautiful fine copy, rare in this condition. $1900.