UGO MULAS AND THE NEW YORK ART SCENE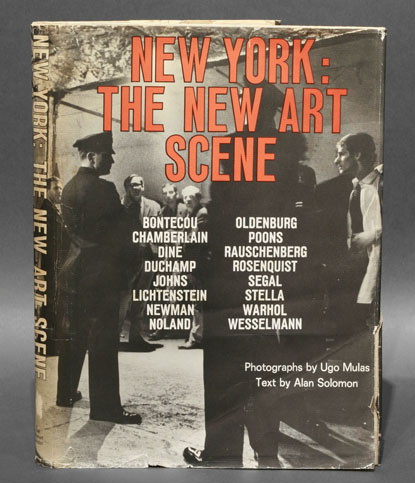 MULAS, UGO.
New York: The New Art Scene
The New Art Scene "captures the art world at one of its most volatile and vivid peaks [and] is peppered with terrifically dashing portraits" (Roth 101).
FIRST EDITION of Ugo Mulas's classic photographic study of the vibrant New York art scene in the 1960's. Illustrated with over 500 photographs of major artists including Roy Lichtenstein, Jasper Johns, Marcel Duchamp, Andy Warhol, Robert Rauschenberg, and many others.
"Inspired by the strong American presence at the 1964 Venice Biennale, the Italian photographer Ugo Mulas made three extended visits to New York over the following years. The result [is this] massive, handsomely designed volume [that] captures the art world at one of its most volatile and vivid peaks...[Mulas] was ideally suited to infiltrate that scene as a sympathetic and unobtrusive observer...With more than 500 photos reproduced in heavily inked, knockout black-and-white, the book has a marvelous scope. Its arresting cover image—a pair of New York cops confronting a gaggle of bohemians at a party in Andy Warhol's Factory—isn't typical, but it suggests something of the scene's exhilaration and notoriety..." (Vince Aletti; Roth 101).
Text by Alan Solomon. New York: Holt, Rinehart, Winston, 1967. Quarto, original linen, original photo-illustrated dust jacket. Book near-fine; dust jacket with spine slightly toned and a few small closed tears; archival repair to long closed tear at hinge of front flap. An attractive copy of a difficult book to find in collectible condition. $2400.