THE DEFINITIVE MUNCH CATALOG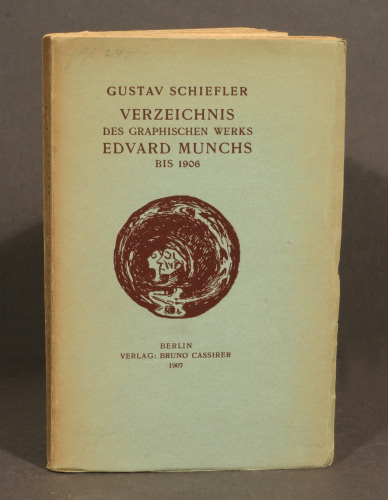 (MUNCH, EDVARD). SCHIEFLER, GUSTAV.
Verzeichnis des graphischen Werks Edvard Munchs bis 1906
FIRST EDITION IN ORIGINAL WRAPPERS, ONE OF 400 COPIES, of the authoritative catalog of Munch's graphic work. With two superb etchings and numerous in-text woodcut illustrations.
In 1902, "Gustav Schiefler saw (Max) Linde's collection of prints, and was so impressed that a short time later he decided to produce a complete catalogue of Munch's graphic work. Several exhibitions and increased sales also led to interest from art dealers keen to sell Munch's work, and in 1904 he signed a three-year contract with Cassirer on the sole right to all sales of graphic art in Germany. Although this contract caused Munch great resentment and brought in little income, it can be seen as a clear sign that he was now a graphic artist to be reckoned with. Schiefier's catalogue came out in 1907, and instantly became the standard work on Munch's graphic art - as it still is today." –Gerd Woll, senior curator at the Munch Museum

Berlin: Bruno Cassirer, 1907. Octavo, original wrappers. Spine slightly toned, title and author's name written on spine in neat hand. SCARCE. $8700.