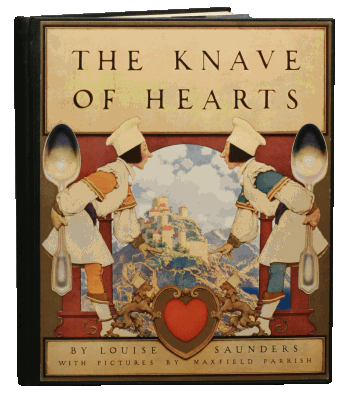 (PARRISH, Maxfield, illust.); SAUNDERS, Louise.
The Knave of Hearts
First edition.
"Ladies and gentlemen, you are about to hear the truth of an old legend that has persisted wrongly through the ages; the truth, until now hid behind the embroidered curtain of a rhyme, about the Knave of Hearts, who was no knave but a very hero indeed..."
New York: Charles Scribner's Sons, 1925. Oblong quarto, original cloth with color pictorial label on front cover. Vibrant, well preserved copy of this lovely collaboration by Parrish and Saunders. Very minimal wear to color pictorial label (see above); inoffensive 1/4 inch closed tear to front free endaper. A tight, bright, near-fine copy of this splendid book. $4000.