ONE OF ONLY 25 COPIES WITH EXTRA SUITE OF SIGNED LITHOGRAPHS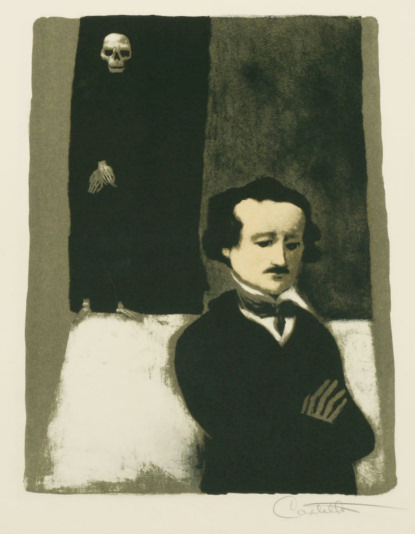 POE, Edgar Allan; CASTELLON, FEDERICO, artist.
The Mask of the Red Death
Poe "interests me... there is a dark, very dark side to my work and Poe is quite a dark guy..." -Federico Castellon
FIRST EDITION, NUMBER XVI OF ONLY 25 COPIES SIGNED AND ILLUSTRATED BY FEDERICO CASTELLON AND WITH AN EXTRA SUITE OF 22 LITHOGRAPHS EACH SIGNED BY THE ARTIST.
The Spanish-American artist Castellon on his selection of The Mask of the Red Death as a book to illustrate: "I picked it because a lot of my work is devoted to this kind of questioning of what the hell is it all about and to me that was typical of the philosophy that Poe seemed to project. That we try to pose whatever we want, do whatever we want, everything, and therefore the whole game... Poe depresses me enormously in the sense that his compositions are basically lonely people all the time, rarely puts two people together. He has of course very often but a great bulk of them are alone and he impresses me with the uniqueness of an individual, this kind of floating and trying to find a niche that really isn't there. You have to function within what is there, but none of them is a comfortable niche for anybody."
The first publication of the Aquarius Press; from a total edition of 500 copies. Sixteen color lithographs in the book; the extra portfolio with the sixteen lithographs each signed and without text, and with an additional six color lithographs created as marginalia, each signed by Castellon. Book design by Bert Clarke.
Baltimore: Aquarius Press, 1969. Folio, original half black leather over decorated cloth; extra suite loose as issued in matching portfolio; custom cloth box. A fine copy of a beautiful production. RARE. $2400.