RAWLINGS' MASTERPIECE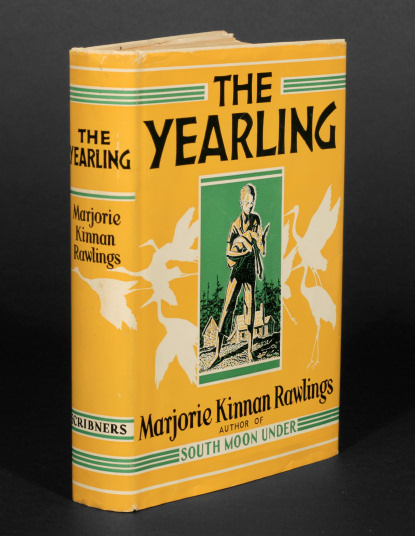 RAWLINGS, MARJORIE KINNAN.
The Yearling
"As American as the Mississippi..." -Atlantic Monthly
FIRST EDITION of Rawlings' Pulitzer-Prize winning novel.
Rawlings' "masterpiece, The Yearling (1938) [tells] the story of twelve-year-old Jody Baxter, who lives in the Florida scrub country with his pragmatic mother and kindly, storytelling father. Rawlings beautifully described the natural setting and the poor yet proud families who reside there.... Rawlings's evocative descriptions of rural Florida and its people make The Yearling regional fiction at its best, yet the novel is universal in its depiction of the human experience. The book was awarded the Pulitzer Prize and made into a 1946 motion picture starring Gregory Peck and Jane Wyman as Jody's parents. Although originally published for adults, it is now primarily read and enjoyed by children" (Silvey, The Essential Guide to Children's Books and Their Creators).
New York: Charles Scribner's Sons, 1938. Octavo, original cloth, original dust jacket. With decorations by Edward Shenton. Only a hint of wear; a beautiful, bright copy. $900.