ONE OF ONLY 100 COPIES WITH SIGNED LITHOGRAPH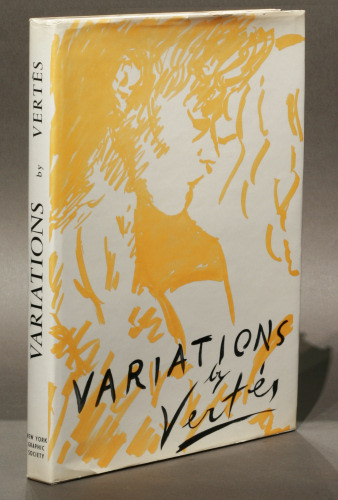 [VERTÈS, MARCEL]. ROGER-MARX, CLAUDE.
Variations: Drawings, water colors, etchings and lithographs by Vertès
"And if Vertes's drawings... are certain not to become antiquated or, more exactly, to do so gracefully, it is because, behind this modern 'new look' and these superficial changes, the philosopher and the poet have never ceased to stress, in man, in woman- united or apart, aroused or tender- in every living thing, and in every sight, what is most universal, most fixed and immutable."
LIMITED EDITION, DELUXE ISSUE, ONE OF ONLY 100 COPIES with an original lithograph signed by Vertès laid in (out of a total edition of 1000). With an additional 115 illustrations printed on various colored paper. Text by Claude Roger-Marx.
Greenwich, CT: New York Graphic Society, (1961). Folio, original illustrated boards, original dust jacket. A fine copy in fine price-clipped dust jacket. Scarce. $1600.
additional images (first is the signed lithograph):