FIRST ISSUE OF VERVE, WITH ORIGINAL LITHOGRAPHS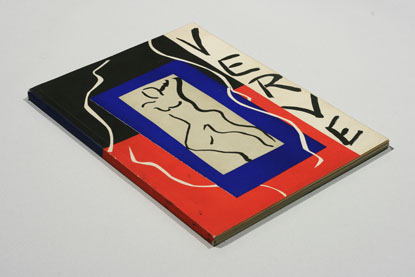 (MIRO, JOAN; MATISSE, HENRI; et al.).
VERVE: Revue artistique et litteraire
The first issue of the most celebrated art journal of the century: Verve, No. 1, with original lithographs by Leger, Miro, Rattner, and Bores, and cover by Matisse.
An outstanding copy in original wrappers and with original box of the first printing (preceding the English-language edition) of the first issue of Verve, with four original lithographs: L'Eau by Leger, L'Air by Miro, le Feu by Rattner & la Terre by Bores. With photography by Man Ray, Brassai, and others; text by Gide, Bataille, Garcia Lorca, Malraux, Henri Michaux, Vollard, and Cradel. The cover by Matisse was designed specially for this issue.
Paris: December 1937. No. 1. Quarto, original illustrated wrappers, original cardboard box. A little bit of soiling to wrappers, box with some creasing and general wear. $1450.