ONE OF ONLY 350 COPIES SIGNED BY MAX WEBER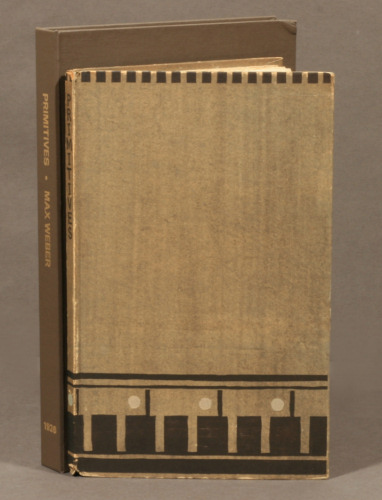 WEBER, MAX. Primitives: Poems and Woodcuts
"Primitives is Weber's second book of poetry (in 1914 he had published 'Cubist Poems', un-illustrated, in London). Many years earlier he had first become interested in primitive art, to which the title and the style of the woodcuts both testify. This little-known book is one of the very few American 'livres de peintres' published as early as the 1920s." -The Artist and the Book, 1860-1960, #321.
FIRST EDITION, one of only 350 numbered copies, SIGNED BY WEBER; the first book by the famous Spiral Press (founded by Joseph Blumenthal and A. George Hoffman). Introduction by Benjamin de Casseres. With eleven woodcuts by Weber; text printed in Pen Print Bold on hand-made English paper. In the original modernist binding after a design by Weber.

New York: Spiral Press, 1926. Octavo, original decorative paper boards; without original slipcase (as usual); custom cloth box. Tasteful bookplate of Margaret Winkelman at upper left of front pastedown. Minor wear at head of spine; otherwise fine. A beautiful copy of a rare and fragile book. $2300.