SIGNED AND INSCRIBED BY WINOGRAND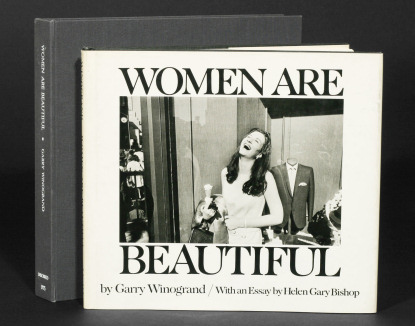 WINOGRAND, GARRY.
Women are Beautiful
"His deceptively casual framing and subject matter influenced a whole generation of American photographers, including Robert Adams, Lewis Baltz, and William Eggleston." –American National Biography

FIRST EDITION, SIGNED AND INSCRIBED BY WINOGRAND on the half-title: "To Lights best intern / Garry Winogrand". The preferred hardcover issue of the first edition.

In Women are Beautiful, Winogrand is "never simply a voyeur. His respect for women is traceable in many of these photographs, which at times demonstrate a kind of sisterhood—they show us the liveliness and rapport that women share with each other, with or without the presence of men… Women Are Beautiful is perhaps the most cohesive and complete series of pictures Winogrand produced in his lifetime. They are an important key to understanding the obsessions that fueled Winogrand's best work" (James Crump, art curator, ed. Garry Winogrand: 1964). With 84 black and white photographs and an essay by Helen Gary Bishop.

New York: Light Gallery & Farrar, Straus & Giroux, (1975). Oblong quarto (225x205mm), original silver-stamped gray cloth, original photo-pictorial dust jacket; housed in custom clamshell box. Very light soiling to dust jacket; a fine copy. $3300.