THE CLASSIC WYETH COLLECTION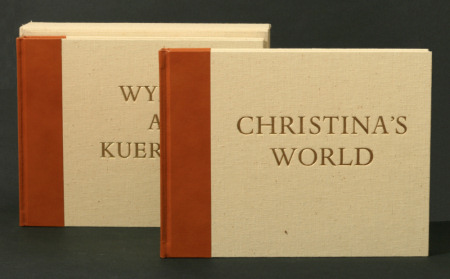 WYETH, ANDREW.
Christina's World; Wyeth at Kuerners
Andrew Wyeth is "the only narrative artist of genius during the second half of the twentieth century." -Paul Johnson, Art: A New History
First LIMITED edition, each volume SIGNED BY ANDREW WYETH. One of only 200 copies. Illustrated throughout with hundreds of reproductions of Andrew Wyeth's sketches and paintings.
Boston: Houghton Mifflin, 1982. Oblong folios, original gilt-lettered 1/4 brown morocco over cloth; slipcase. Both volumes number 169 (out of 200). A FINE SET. $2400.